Registration Steps at Faith Academy ONLINE
Step 1: Pre-Registration Counseling
Faith Academy ONLINE offers you the free service of a one-on-one pre-registration consultation with an Educational Specialist. For more information and to discuss the customizable distance learning options available to you and your student, simply call us toll free at 1-877-316-6925.
Step 2: ONLINE Registration
Registration is the initial step of preparing your student for enrollment at Faith Academy ONLINE. Online and easy to complete, registration takes only a few minutes to finish. Simply click the "Register" Link and follow the easy step-by-step instructions. At the end of the online registration, the registration fee will be required.

Step 3: Select Courses
Once you have completed the Registration Form, you will receive an email from Faith Academy Online. You can reply to this email with your records. Faculty advisors work with you to evaluate your student's transcripts and/or placement tests in order to establish a program(courses) tailored to your student's academic needs. After the courses are selected you will be issued an online invoice for the tuition of the selected courses.

Step 4: Enrollment
After completing registration and paid tuition, families are provided with ONLINE curriculum access and your student is enrolled in Faith Academy ONLINE either as a full-time or part-time student.
Student Life
What an enrolled student can expect on a day-to-day basis
Faith Academy ONLINE students use an innovative ONLINE Course management system throughout their studies and enjoy its many interactive exercises, movies, animations, and audio clips that enhance the learning experience. With the instant grading feature, students and parents have immediate feedback regarding the student's progress.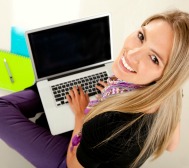 Faith Academy ONLINE teachers grade the paragraph answers, essays, and projects associated with students' lessons. Any grading or comments made by the teachers are transferred back to students via the Internet. Due dates and past due notices are noted in lessons and help keep students on schedule according to their customized lesson plan and goals.
Communication between teacher and student is accomplished in different ways. Teachers can be reached through notes left in the message center or comments can be made directly on the problems themselves using the attached notepad.
Admissions
Enrollment in Faith Academy ONLINE is easy with our online registration!

Simply click Register link and complete our easy registration process. For more information concerning the Faith Academy ONLINE school, feel free to contact us.


Before enrolling, please be sure to review our parent agreement and tuition fees.
Register
Parent Agreement
Tuition High school
Tuition Grades 3-8
School Calendar

Course work can be completed any day and at any time. The school calendar lists the observed holidays when class facilitators, teachers, and office staff are not available for communication.
New Year's Eve
New Year's Day
Martin Luther King, Jr. Day
Presidents Day
Memorial Day
Independence Day
Labor Day
Veterans Day
Thanksgiving (Thursday and Friday)
Christmas Eve
Christmas Day
Note: Class facilitators can still be reached via email but the response time will vary and depend on their schedule.